Past Exhibitions
> The Beauty of 80: Negeri Sembilan Senior Artists Group Exhibition
EVENT HIGHLIGHTS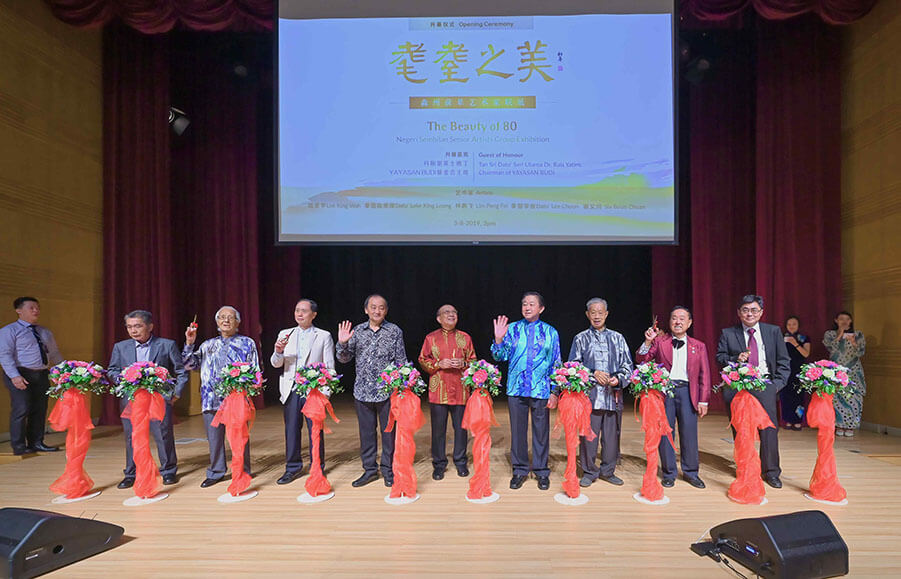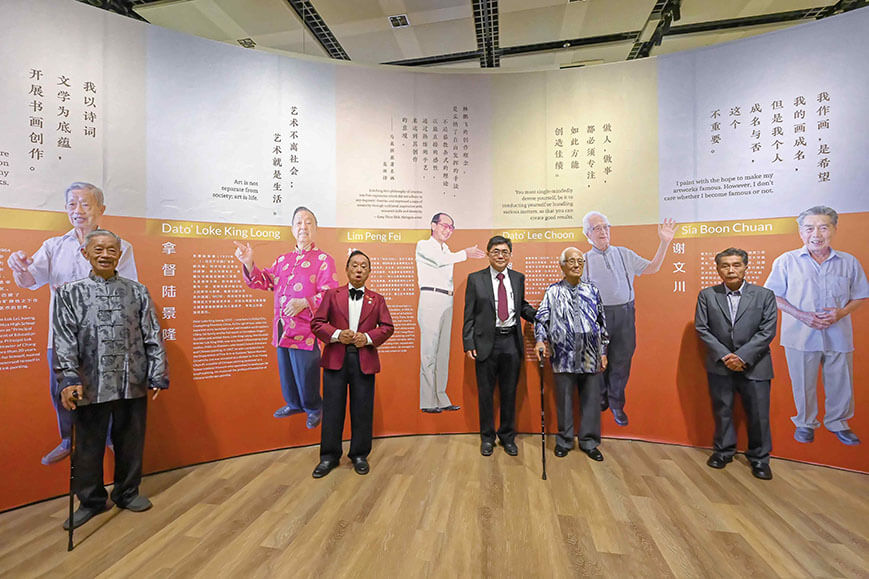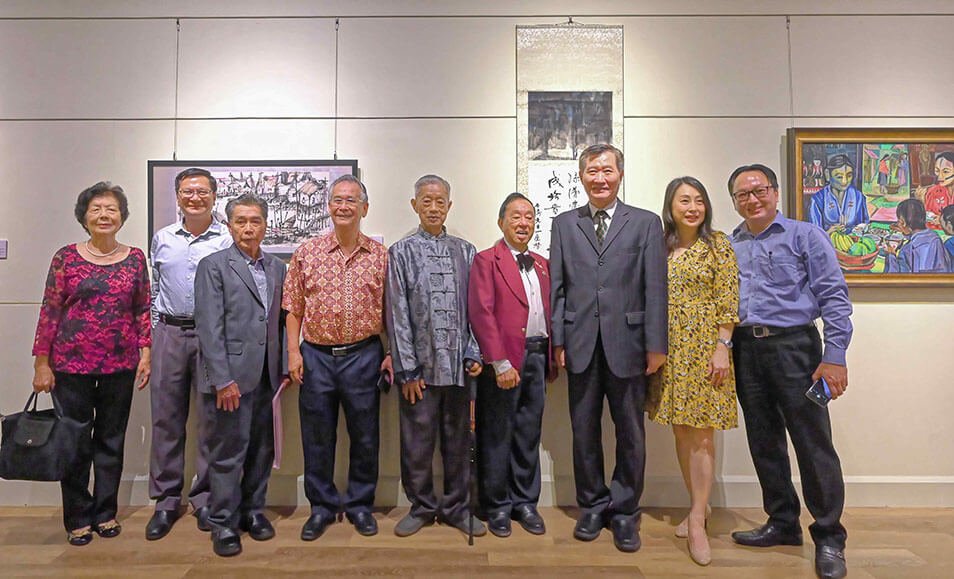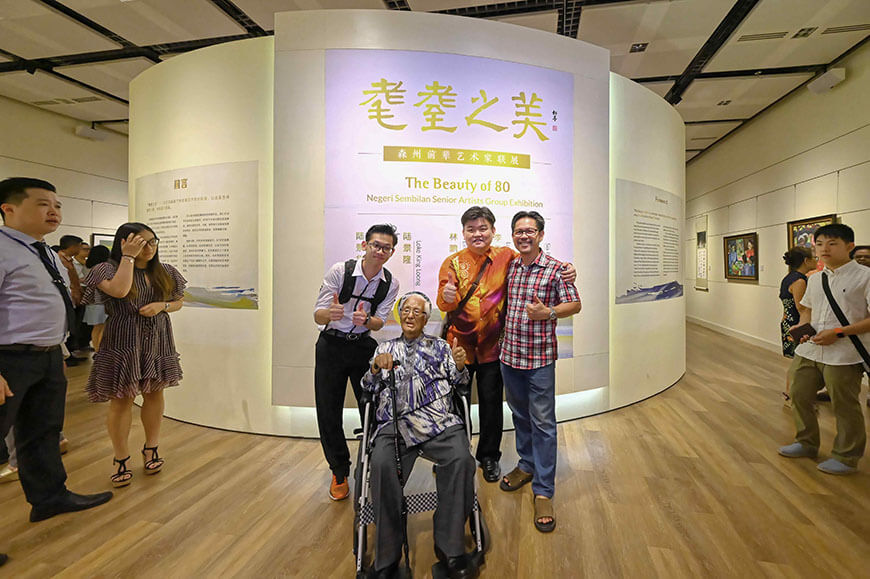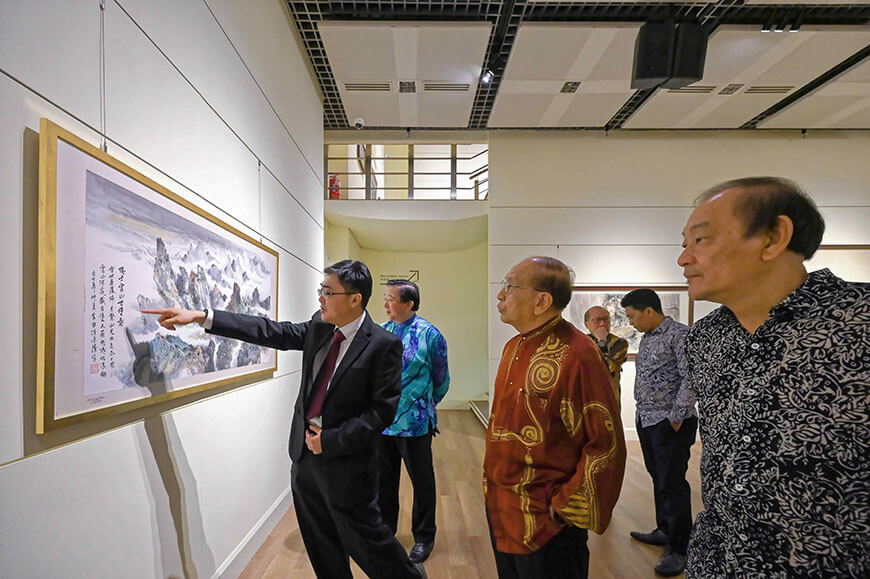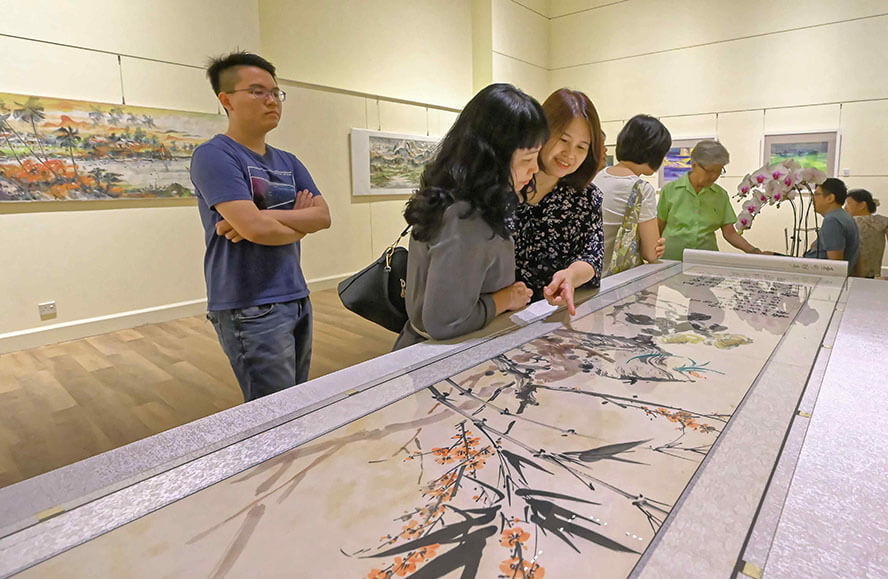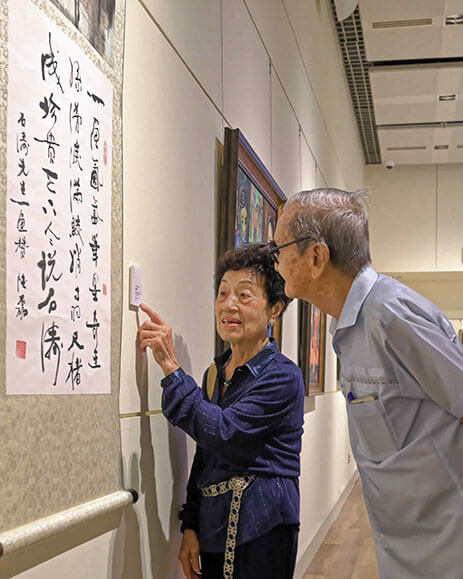 "The Beauty of 80" – The Fragrance of Friendship
"The Beauty of 80" exhibition, a joint exhibition of five senior artists from Negeri Sembilan, aims at bringing inspiration to the future generations through their friendship of over 70 years and their passion in art.
The artists presented in this joint exhibition included Sia Boon Chuan who graduated from the National Taiwan Normal University; late Lim Peng Fei who specialised in ink painting of birds and animals; the Lingnan school landscape painter, Dato' Loke King Loong; headmaster Lok King Wah, an expert on calligraphy and painting, who contribute to the education industry and Dato' Lee Choon, a 17-year-old talent who won the second place in the "World Youth Artist" competition hosted by Tampa Junior Chamber of Commerce in Florida, USA, but later worked in the mechanical engineering industry and only resumed painting after retirement and having valiantly battled cancer. They were neighbours and good friends who had the same interests since young. At the end of 1950s, they furthered their studies in Taiwan and in the 1960s they returned to Negeri Sembilan. Though they worked in various fields such as art, Chinese education and business, their passion for art never faded and they often met to discuss art, learning and encouraging each other.
Lok King Wah (1929-2021), who is also known as Lok Lei, was born in Surabaya, Indonesia.  After graduating from the Department of Education at National Taiwan Normal University, Lok King Wah returned home and became the headmaster of Chung Hua Middle School in Port Dickson for more than 20 years.  After his retirement, he built a house near a beach in Port Dickson for himself and named it "Guan Tao Ju." At his seafront house, he immersed himself in the world of creating art, especially in calligraphy, poetry and ink painting. He thinks that the expression of beauty has direct and immediate connection with literature – there is no beauty without literature, and without philosophy, there will hardly be any progress in one's thoughts and ideas, leading to hampered creativity. Lok King Wah's strong foundation in literature and philosophy is clearly visible in his artworks.
Dato' Loke King Loong (1931-) is Lok King Wah's brother.  He was born in Xinhui District, Guangdong Province, China. At the age of four, when the Japanese army invaded north-eastern China, his family fled to Seremban, Negeri Sembilan and settled there. Dato' Loke King Loong, like his elder brother Lok King Wah, was very much influenced by their mother, Mdm Lu Xiao-wen, had a preference for Chinese literature and Chinese painting. In 1957, he won a scholarship from the Department of Art at National Taiwan Normal University, and was taken as an apprentice by Chinese painting master, Prof Huang Chun-Pi, who was also a living national treasure of Taiwan. He focused on studying landscape painting and learned from his mentor the profound foundation of Chinese landscape painting.  He has travelled and seen many great mountains and rivers all over the world, putting all into his ink brush landscape paintings. He even used Chinese ink brush with colours to integrate East Asian culture, thus creating a tropical style in his own way.
Lim Peng Fei (1934-2015) was born in Seremban, Negeri Sembilan.  In 1959, he studied art at National Taiwan Normal University. There, he received guidance from well-known masters such as Lin Yu-shan on Chinese ink paintings of flowers and birds, Huang Chun-pi on landscapes and Liao Chi-chun on western painting styles, together with his artistic attainments, he succeeded in establishing his avant-garde style. He was able to hold an unprecedented solo exhibition at the National Museum of History, Taipei, upon his graduation in 1963. He returned to his homeland after graduating and taught at his alma mater SJK (C) Chi Hwa and later became the art teacher at Chan Wa High School. He advocated practising what one preaches, teaching students by their aptitude and without favouritism.
Dato' Lee Choon (1935-2019) studied at SJK (C) Chi Hwa in Seremban and continued his studies at Muar Chung Hwa High School, Johor. Inspired by the then principal, Chen Jen Hao who was a calligrapher and artist, he developed a passion for painting.  He then furthered his studies at Hwa Chong Institution in Singapore and had a fateful encounter with Prof Chen Wen Hsi. At the same time, renowned artists such as Cheong Soo Pieng and Liu Kang also gave him a lot of inspiration, laying the foundation for the passionate and unrestrained style in Lee Choon's paintings. When he was 17 years old, he represented Singapore to participate in an international art competition in Tampa hosted by the Tampa Junior Chamber of Commerce in Florida, USA. There were artists from more than 40 countries participating in the competition. He won the first runner-up award with his oil painting entitled A Devoted Buddhist and has been renowned nationally and internationally ever since. Although later he was engaged in his engineering career, he was still passionate about art. Especially while he was battling cancer, with paintbrushes as his inner sustenance, he used creativity to stimulate a stronger vitality.
Sia Boon Chuan (1936-) was born in Seremban, Negeri Sembilan.  He graduated from National Taiwan Normal University in 1963, mentored by artist Prof Ma Pai-Sui.  Back in Malaysia, he co-founded Negeri Sembilan Art Society, became its board member and was also once the president of the Contemporary Malaysian Watercolorists Association. Currently, he is an advisor of both associations. Sia Boon Chuan is active in exploring nature and he always photographs what he sees for future references. Using his artistic virtuosity, he simplifies complex scenery and using a combination of colours and forms, he creates landscape paintings in his unique style.
With the passing of time, (at the time of the exhibition) 90-year-old Lok King Wah, 87-year-old Dato' Loke King Loong, 84-year-old Dato' Lee Choon, 83-year-old Sia Boon Chuan, and the late 81-year-old Lim Peng Fei who passed away in 2015, all had art being the same protagonist of their lives for over 80 years. Soka Gakkai Malaysia (SGM) exhibited nearly 50 pieces of their masterpieces, embracing their passion in art, celebrating their beautiful friendship with deep respect.