Past Exhibitions
> The Untiring Engraver 48 Years of Original Prints by Loo Foh Sang
7 June 2014
The Untiring Engraver 48 Years of Original Prints by Loo Foh Sang
Loo Foh Sang is Malaysia's renowned artist in printmaking. He devoted himself to the art of printmaking for decades through education, propagation and creation of new techniques in this art form. Loo Foh Sang is truly an untiring engraver.
EVENT HIGHLIGHTS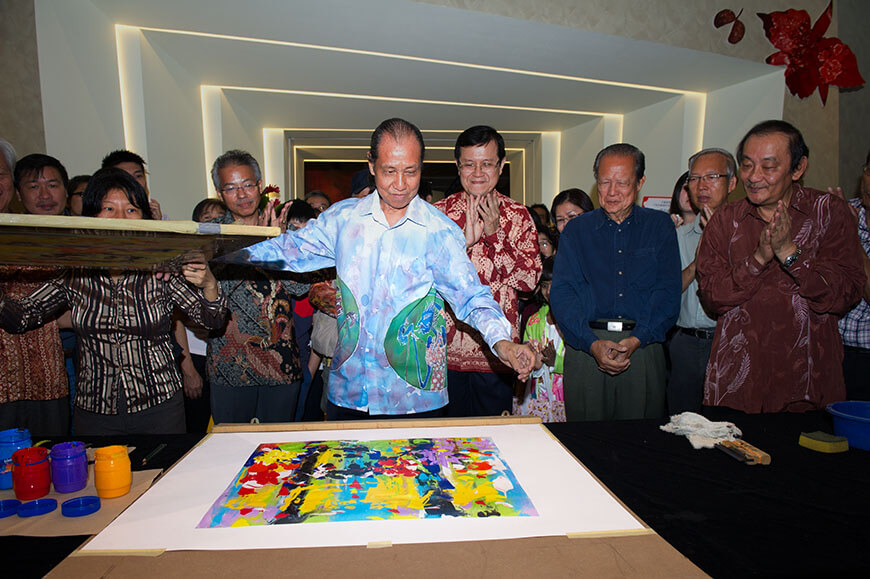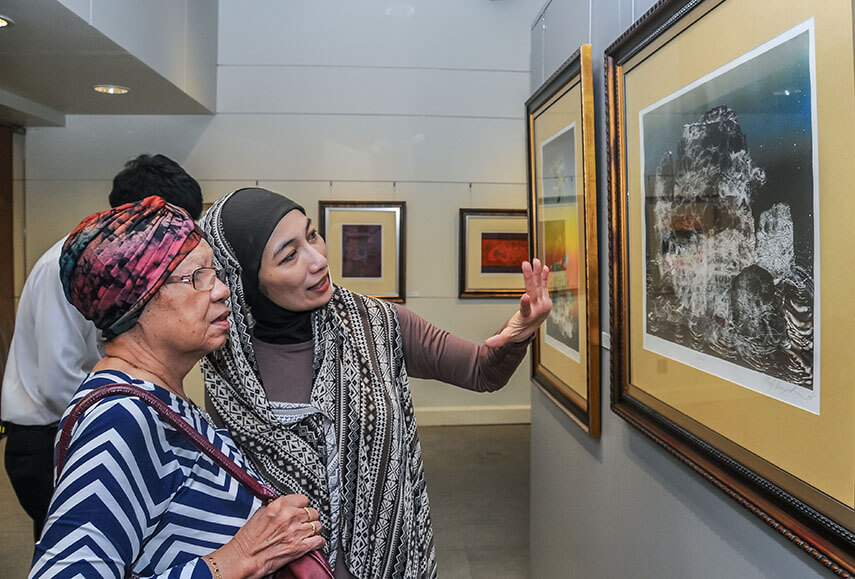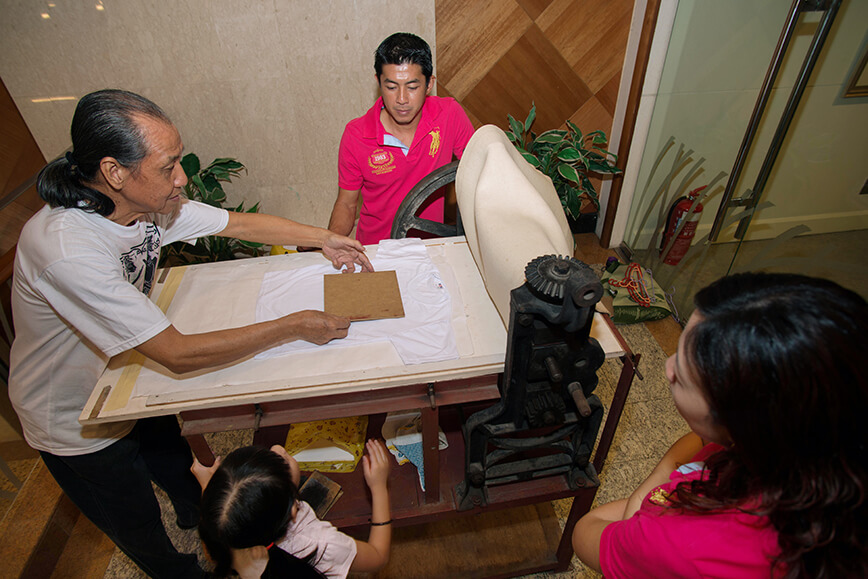 The Untiring Engraver 
Loo Foh Sang was born in Gambang, Pahang, in 1944. He loves to draw since young. He said, "When I was young, painting was like a rainbow to me. This was because painting has made my life extraordinarily beautiful." The primary and secondary schools where Loo attended did not promote drawing or art related activities in those days. There was no art teacher in the schools. However, this did not stop him from drawing. Loo spent time drawing on the wooden boards by using wood and charcoal as his tools. A nurse's compliment on his works encouraged him and inspired him to pursue his path in art. He studied at Nanyang Academy of Fine Arts, Singapore from 1963 till 1965. Then, he furthered his studies at the Ecole National Superieure des Beaux Arts in 1966. At the same time, Loo was accepted to understudy printmaking under the tutelage of Stanley William Hayter (1901-1988), the father of contemporary printmaking who founded Atelier 17.
Loo Foh Sang has held a total of 25 solo exhibitions between 1963 and 2014. He also participated in more than 50 joint exhibitions, including the International Print Biennale. Being in the art world for 52 years, Loo Foh Sang's artworks involve oil painting, colour ink painting, printmaking and sketching. Through the variety of his artworks, one can appreciate the beautiful portrayal of joy, anger, sadness and happiness with the extension of truth, goodness and beauty of his life. He was also in the Jury Panel of the 3rd International Triennial of Graphic Arts, Macedonia, in 2000. In the same year, he was awarded the honourable award and became an "In House Artist" for Romania Art Museum. He received Asia Pacific Art Gold Award in 2009 and Global Gold Brand Award in 2010.
Among the variety of art mediums, Loo majors in printmaking. Printmaking is an art form consisting complicated process in creating artwork. The process of creating artworks based on the principle of transferring images from a matrix onto another surface requires special tools and unique techniques. Most of Loo Foh Sang's expressions in printmaking and structures lean towards totems which carry a veil of mystery. However, compared with the ones seen in primitive tribes, the structure of the totems in Loo's work is more complex. The expression is more abstract, and the colour intensity applied is livelier. It is a fresh approach that combines mystery and creativity. Furthermore, Loo's enthusiasm for dance sees him producing his artworks using strong lines and beautiful figures inspired by the Malay Wayang Kulit (shadow puppet play) and the Indian Odissi dancers. His artworks which portray the beautiful characteristic of human posture have won acclaims.
Although Loo Foh Sang's artworks are internationally recognised and collected by many organisations in many countries, he continues to climb to a higher state and move forward in the world of art. His great spirit in pursuing the best printmaking tirelessly that everyone will think of Loo when one speaks about printmaking in Malaysia. He has not only constructed his own and unique art style in printmaking in Malaysia, his contribution in printmaking and its education is highly regarded.
In conjunction with the artist's 70th birthday (in 2014), Soka Gakkai Malaysia (SGM) organised "The Untiring Engraver – 48 Years of Original Prints by Loo Foh Sang." This exhibition was a showcase of prominent Malaysian printmaker, Loo Foh Sang's print works. It was also to ink-print the development of printmaking in Malaysia, through the untiring engraver, Loo Foh Sang, who tirelessly created new history in Malaysia's printmaking.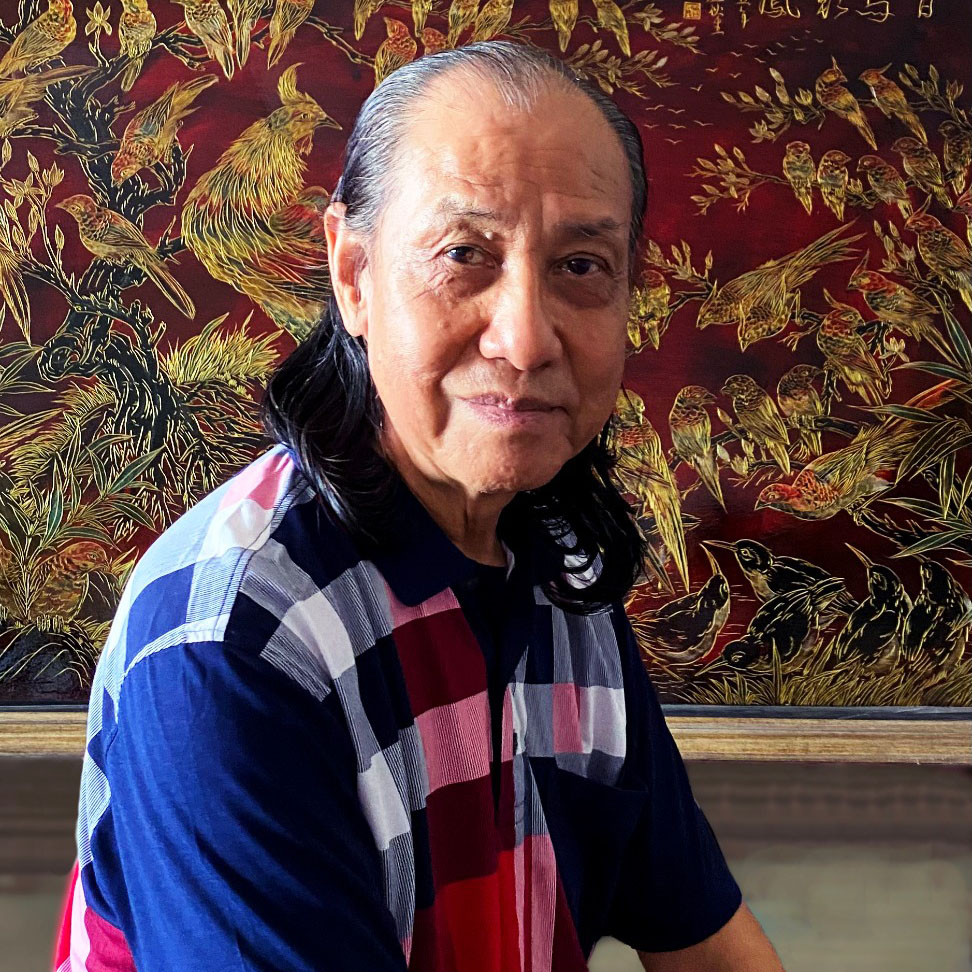 ARTIST INTRO
Loo Foh Sang
Loo Foh Sang (1944-) was born in Gambang, Pahang, Malaysia. In 1965, he graduated from the Nanyang Academy of Fine Arts in Singapore. In 1966, Loo furthered his education at the Ecole Nationel Superieure des Beaux in Paris, France. At the same time, he learned the latest printmaking techniques under the tutelage of the founder of Atelier 17 in Paris, Stanley William Haytern (1901-1988) who was recognised as the father of contemporary printmaking.
From 1996 onwards, Loo has organised three International Contemporary Printmaking Art Shows in Malaysia, committed in promoting the development of printmaking art in Malaysia. In 2000, he was invited to be the Jury Panel of the 3rd International Triennial of Graphic Arts, Macedonia. In the same year, he received honourable mention and became an "In-house artist" at Romania Art Museum.
His prints are rich in a variety of subject matters and include works featuring characters from the Malay shadow puppet theatre, which is representative of the local culture, and Indian Odissi dancers. The exaggerated and powerful lines, shapes and gestures of the figures and the mysterious atmosphere of the images are impressive. His silkscreen monoprints include floral, seasonal scenes, birds, and human figures.
Besides printmaking, Loo Foh Sang dabbles in different art styles, including oil paintings, watercolour paintings and ink paintings. After returning to Malaysia, he devoted himself to printmaking and developing new techniques. At the age of 60, he has successfully developed the new "Silkscreen Monoprint" technique, innovating a new concept on creating modern prints.