EVENT HIGHLIGHTS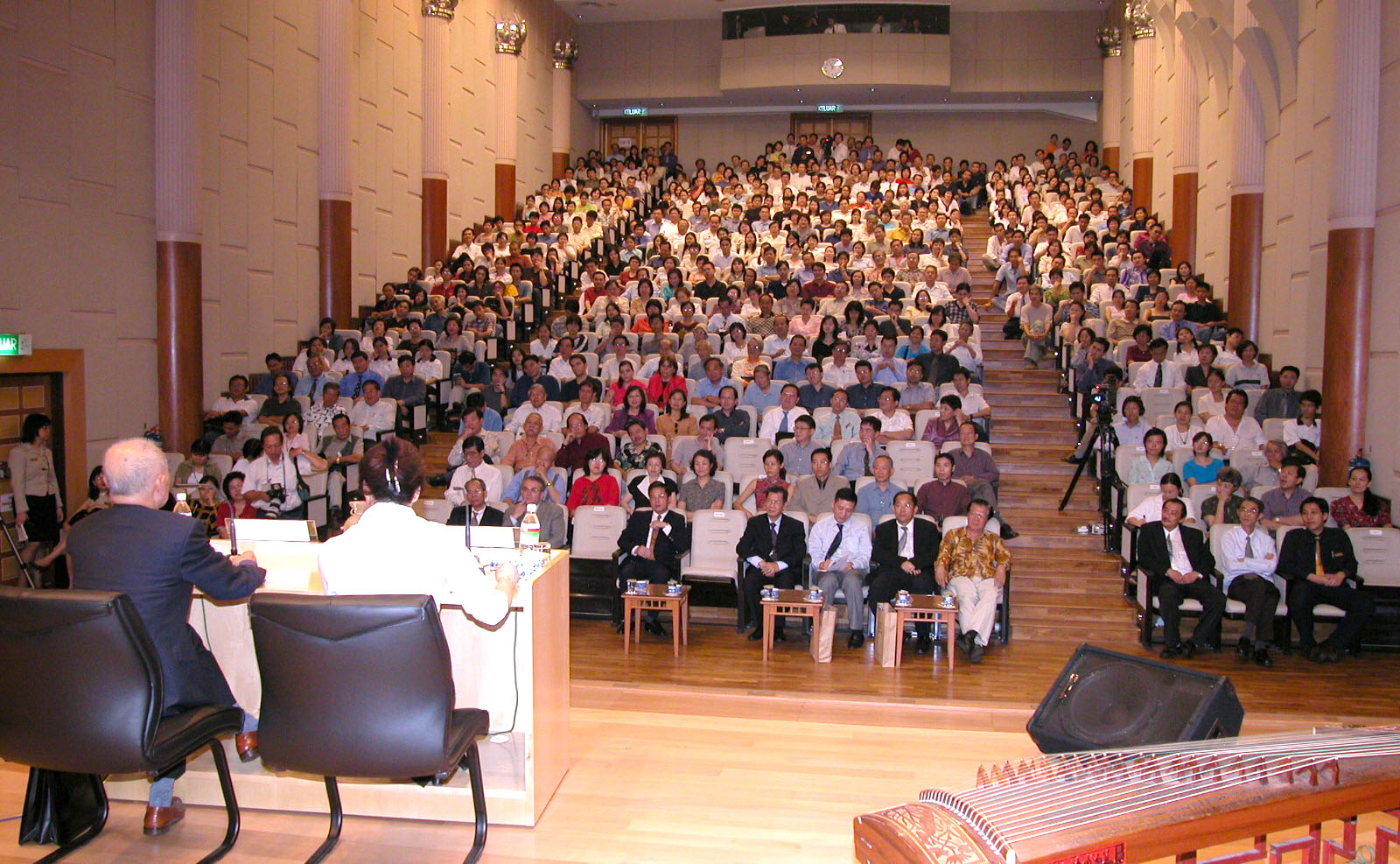 "A Discussion on Art and Literature"
This art forum entitled "A Discussion on Art and Literature" was organised by the Malaysian Chinese Cultural Society (MCCS), co-organised by Soka Gakkai Malaysia (SGM), Malaysian Institute of Art (MIA) and the Central Academy of Art (CAA). The event took place in Wisma Kebudayaan SGM on the June 29, 2002. The then Ambassador of the People's Republic of China (PRC) to Malaysia, His Excellency Hu Zhengyue, officiated the opening ceremony. The main speaker was PRC's National-treasure painter and author, Prof Huang Yongyu, while the forum was chaired by MCCS President Tai Hsiao Hua.
The event was also graced by the presence of the then Albanian Ambassador to Malaysia, His Excellency Hajdar Muneka, the then SGM President Koe Teng Hong, the then MIA President Choong Kam Kow, the then CAA President Lok Chik Wah, the then MSC International College of Media, Art and Design Honorary President Chung Chen Sun, the then Malaysian Contemporary Chinese Painting & Calligraphy Association President Foo Yong Kong, renowned PRC's author cum journalist Li Hui, as well as local artists, those active in the field of Chinese literary and from the media. This lively event drew a full house of around 450 participants.
Huang Yongyu uses the pen names of Huang Xingbin, Huang Niu (Ox), Niu Fuzi (Master Ox). He was born on the July 9, 1924, in Changde county of Hunan province (present day Dingcheng district in Changde prefecture-level city). His ancestral home was in Fenghuang county and he belongs to the Tujia ethnic lineage. Prof Huang is an academician with the China Painting Academy, a professor in the Central Academy of Fine Arts, where he used to head the Printmaking Department. He completed his primary education but was not able to finish his junior-high school education. Due to poverty, he left his home to work at the age of twelve. He arrived at the mountain areas of Anhui and Fujian to work as a child labourer in small porcelain workshops. From there, he then progressed to Shanghai, Taiwan and Hongkong. He started to exhibit his artworks at the age of fourteen. Following that, he focused on printmaking for a period of time. His unique style of printmaking had won him accolades in the local and international arenas. Since sixteen years old, he started to earn his living by creating paintings and woodcuts. He used to work as a porcelain-yard worker, instructor in both primary and secondary schools, a staff member of the family education centre, artistic trainee in a theatre group, newspaper editor, screenwriter, professor in the Central Academy of Fine Arts, the vice-president for the China Artists Association as well as the Honorary Committee for the China Federation of Literary and Art Circles during its tenth session.
Prof Huang loves spending a lot of time reading. He told the audience about his experiences during his youth. It was a war-time era and he had to rove around carrying this heavy load of books. However, there were times he needed to flee for life and in order to move fast, he had no choice but to abandon his precious collection, soaked in his own sweat, with tears in his eyes. After experiencing dire situations where he was confronted with death, Prof Huang survived and hence, he viewed people or things from a more objective angle.
Articulating Details with Words, Describing Life with a Paint Brush
At first, he shared on his thoughts and experiences about writing. He explained that he wrote from his emotions and connections in friendship. He also advised the audience to refrain from using idioms or proverbs in their writings. This was because of the "undoing" mechanism in phycology in which he explained that an essay with many idioms or proverbs will render the readers wishing to skip them. Prof Huang said that if there is really a need to use idioms or proverbs, he suggested using them to create humorous punches. On writing, Prof Huang also shared on a technique that his uncle, Shen Congwen taught him. When writing novel, we must be articulative in describing the details. Describe more, from the perspectives of the characters' behaviours and on the sceneries of the surrounding environment; to bring out the ambience, mood and connections among the characters.
About his thoughts on painting, he pointed out that nowadays many people when they paint still life, sceneries or flowers, giving viewer a misleading impression that "Everything is similar in this world." Prof Huang suggested two directions for the audience: How should we view our objects in still life painting? How can we change this situation of saturated dullness? Painting is not just about skill, but is also about strategy. Painting is not only about painting realistically, but to instill "meanings" into our works. These "meanings" have to be found outside of painting. Prof Huang suggested to cultivate interest in reading, interactions with friends and peers to look for these "meanings". Prof Huang learned from Tan Sitong's poem that art is about discovering the most extraordinary among the ordinary.
Throughout his talk, Prof Huang shared earnestly shared his own stories and experiences in creating his writings and paintings. His candidness was constantly echoed by laughter and applauses. Listening to Professor Huang was apparently an enjoyable and enlightening moment for the audience.
SPEAKER(S)