EVENT HIGHLIGHTS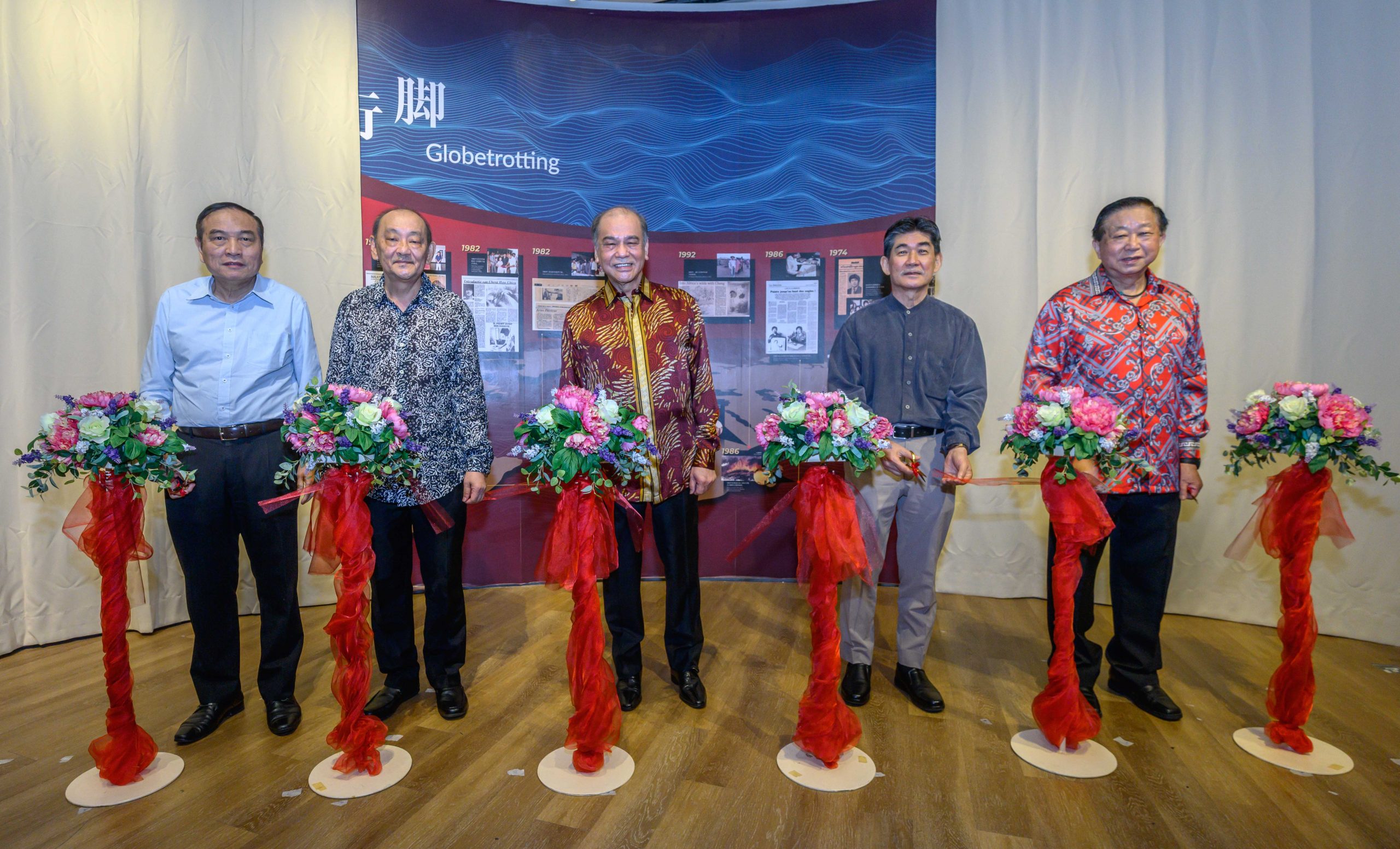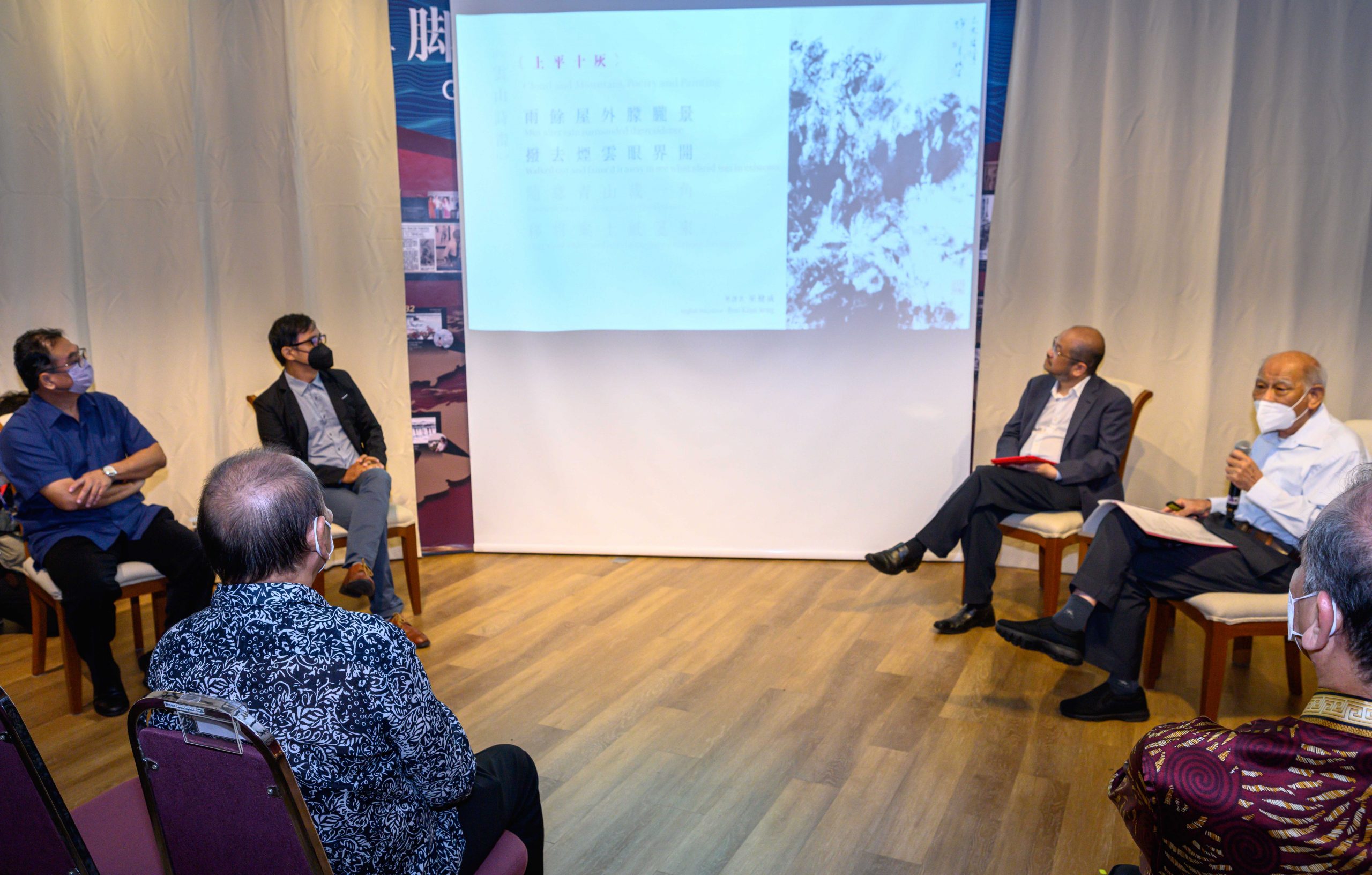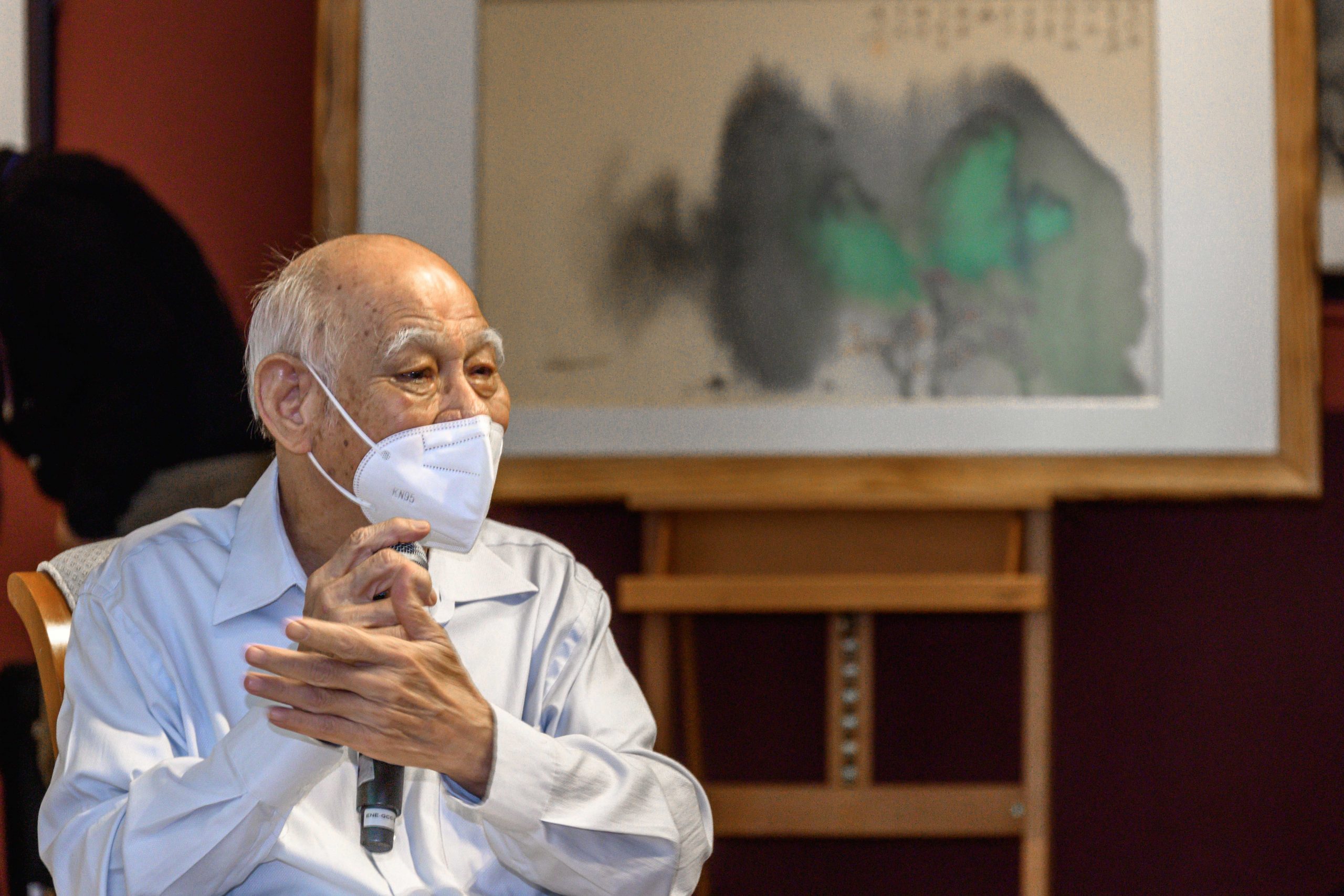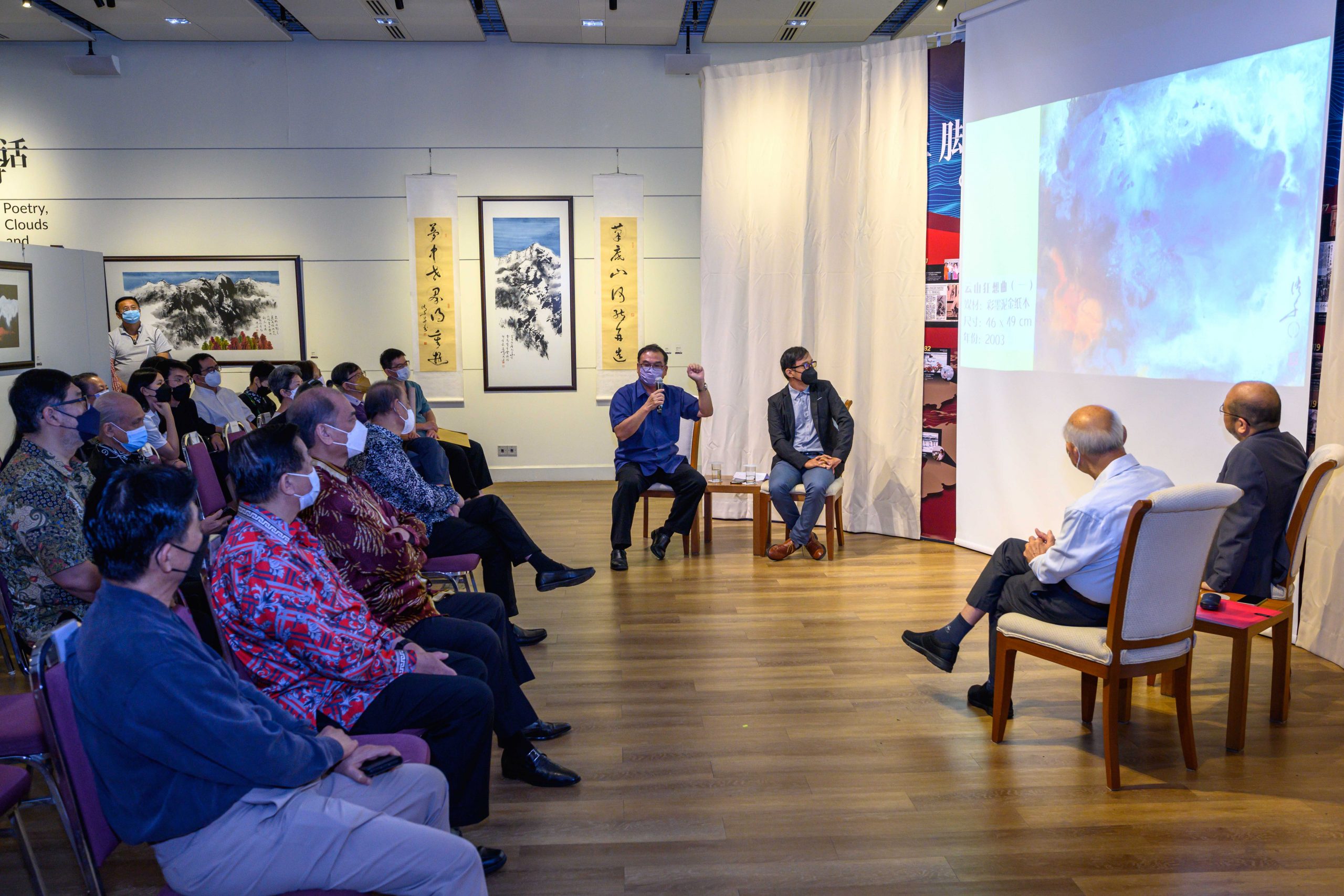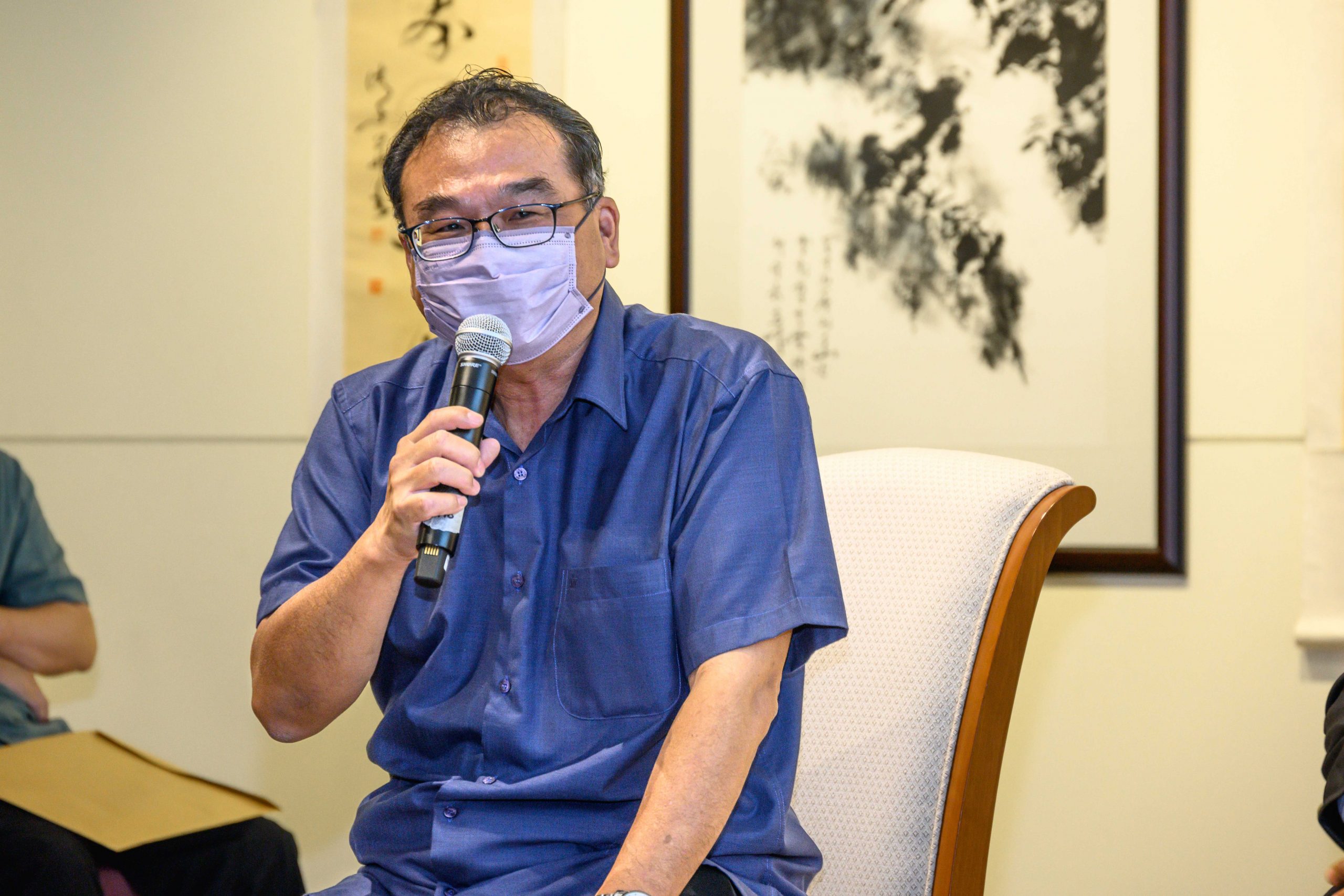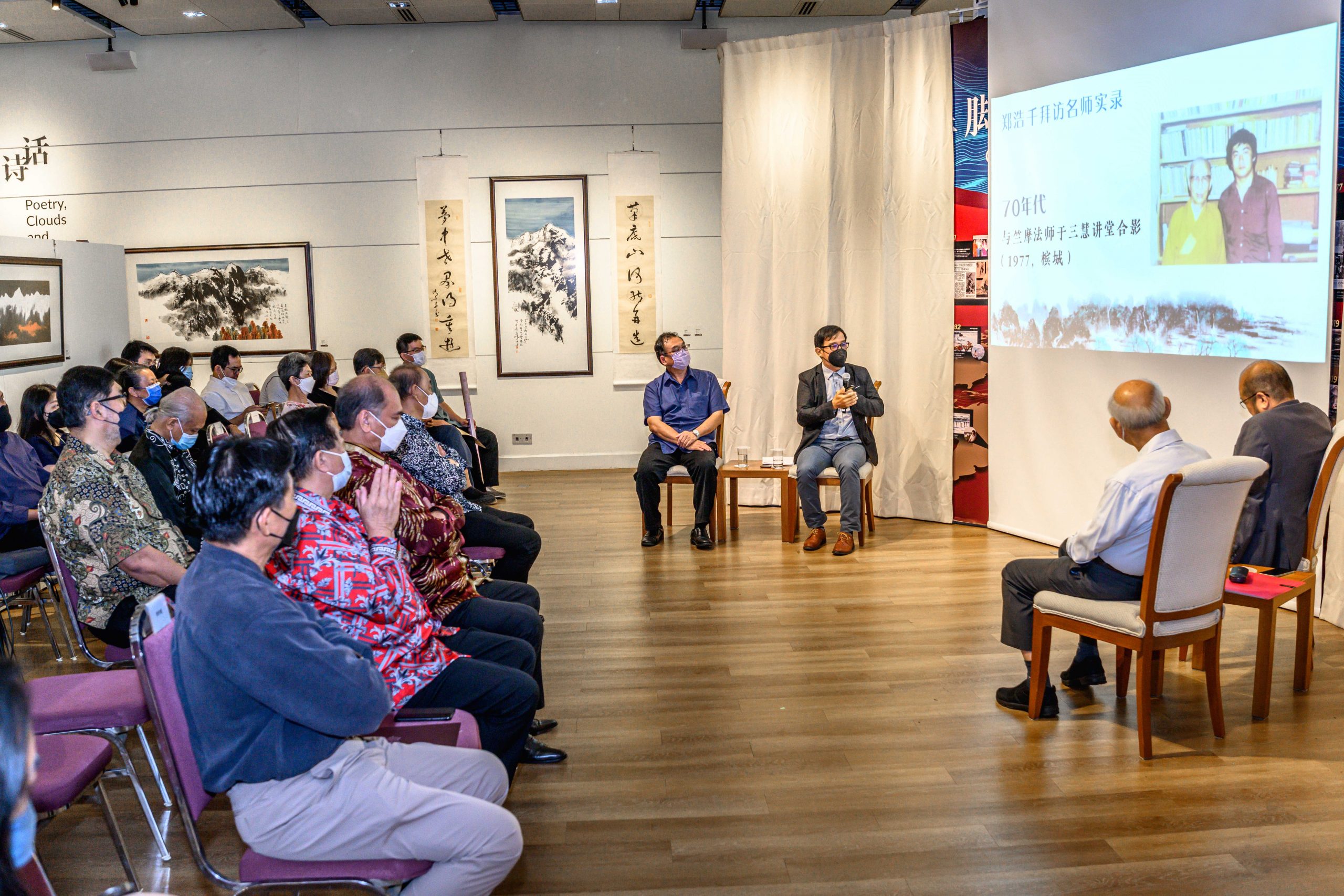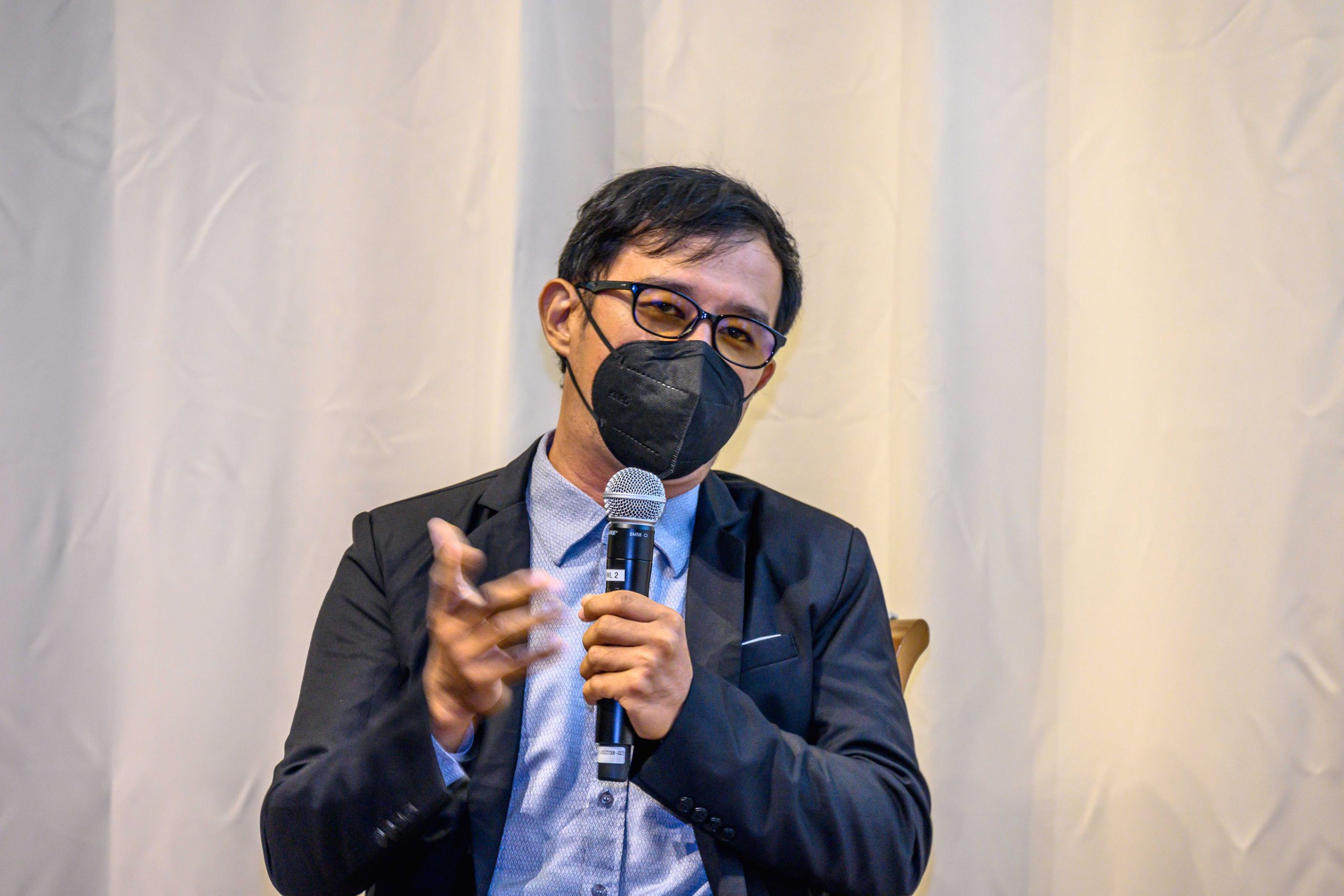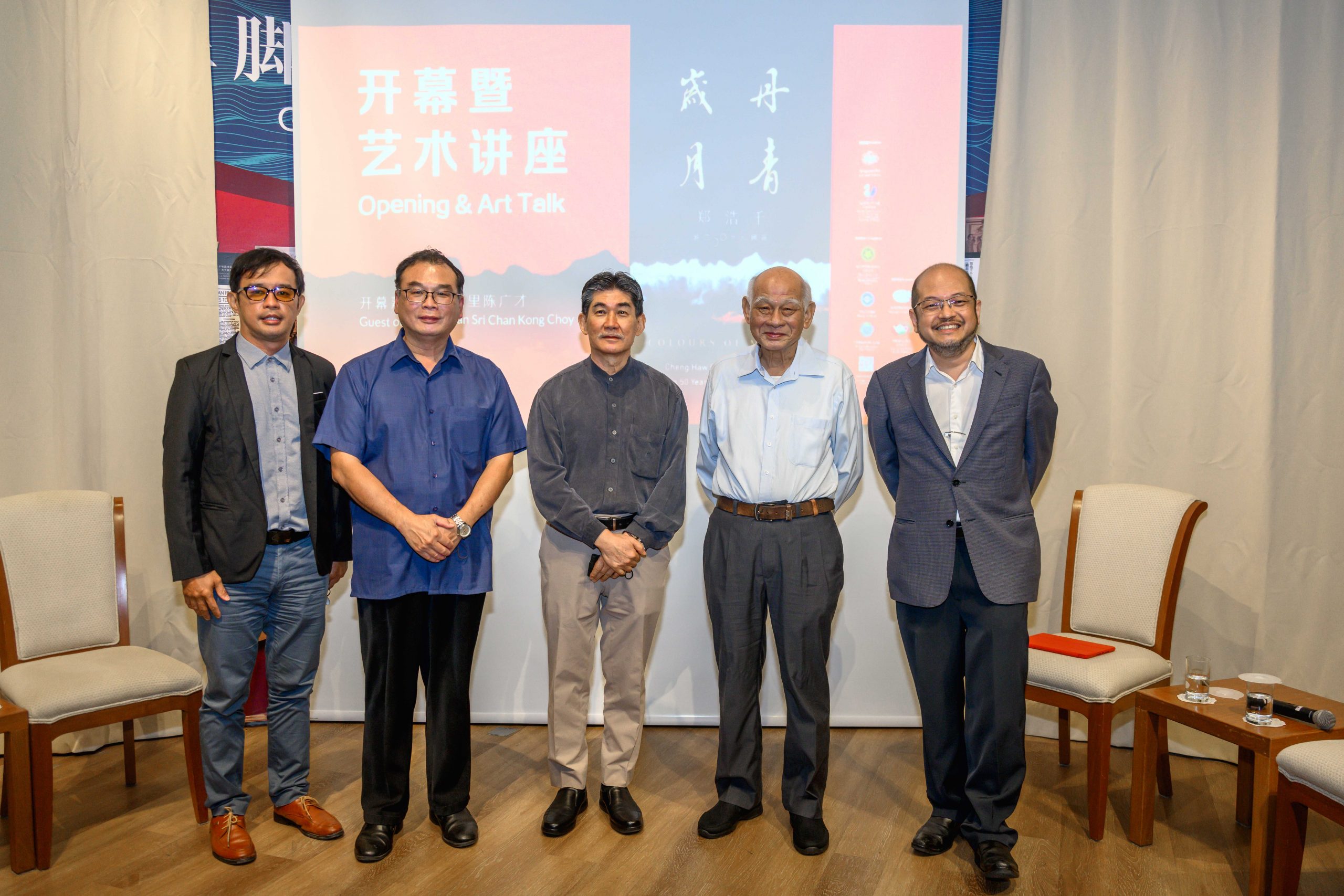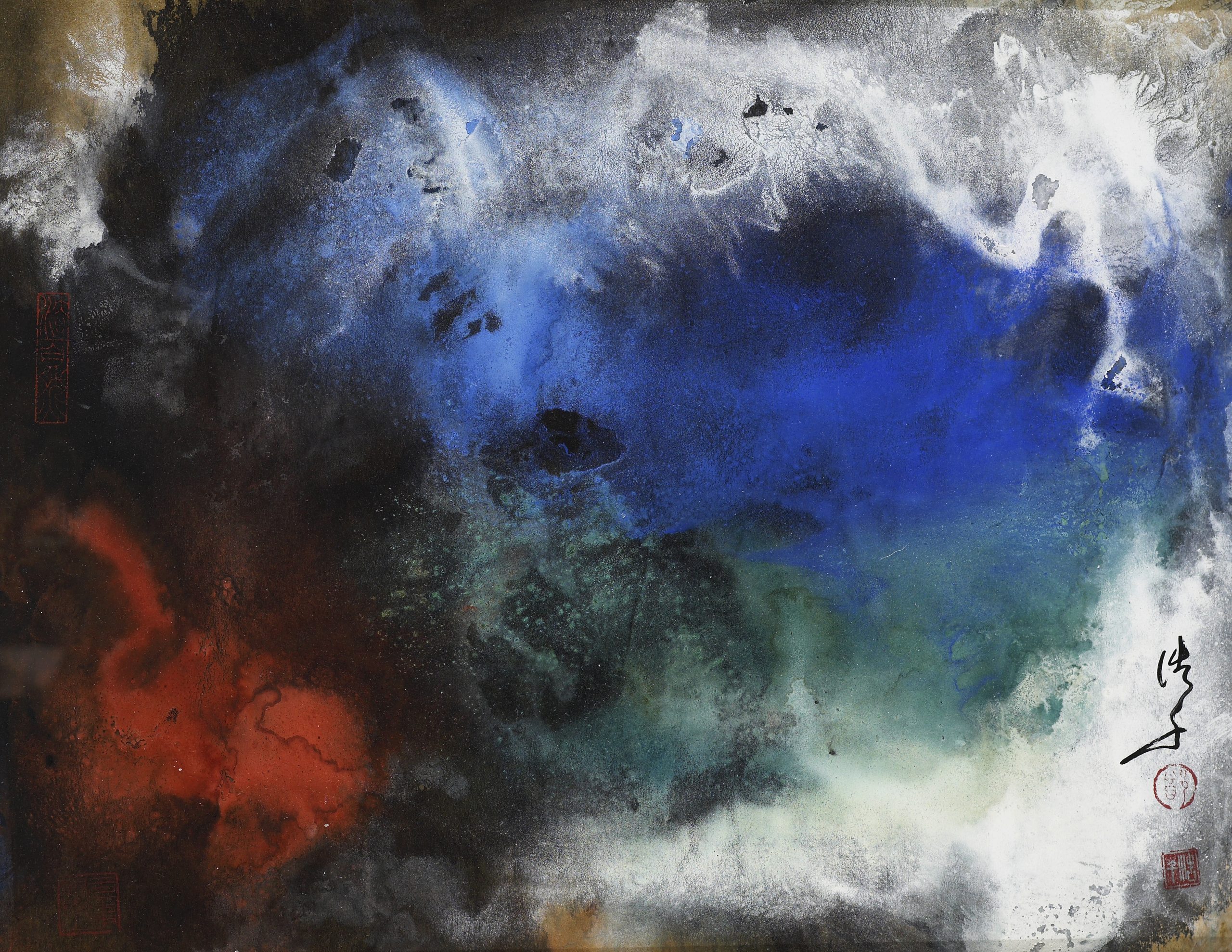 Mountains and Clouds Rhapsody (1)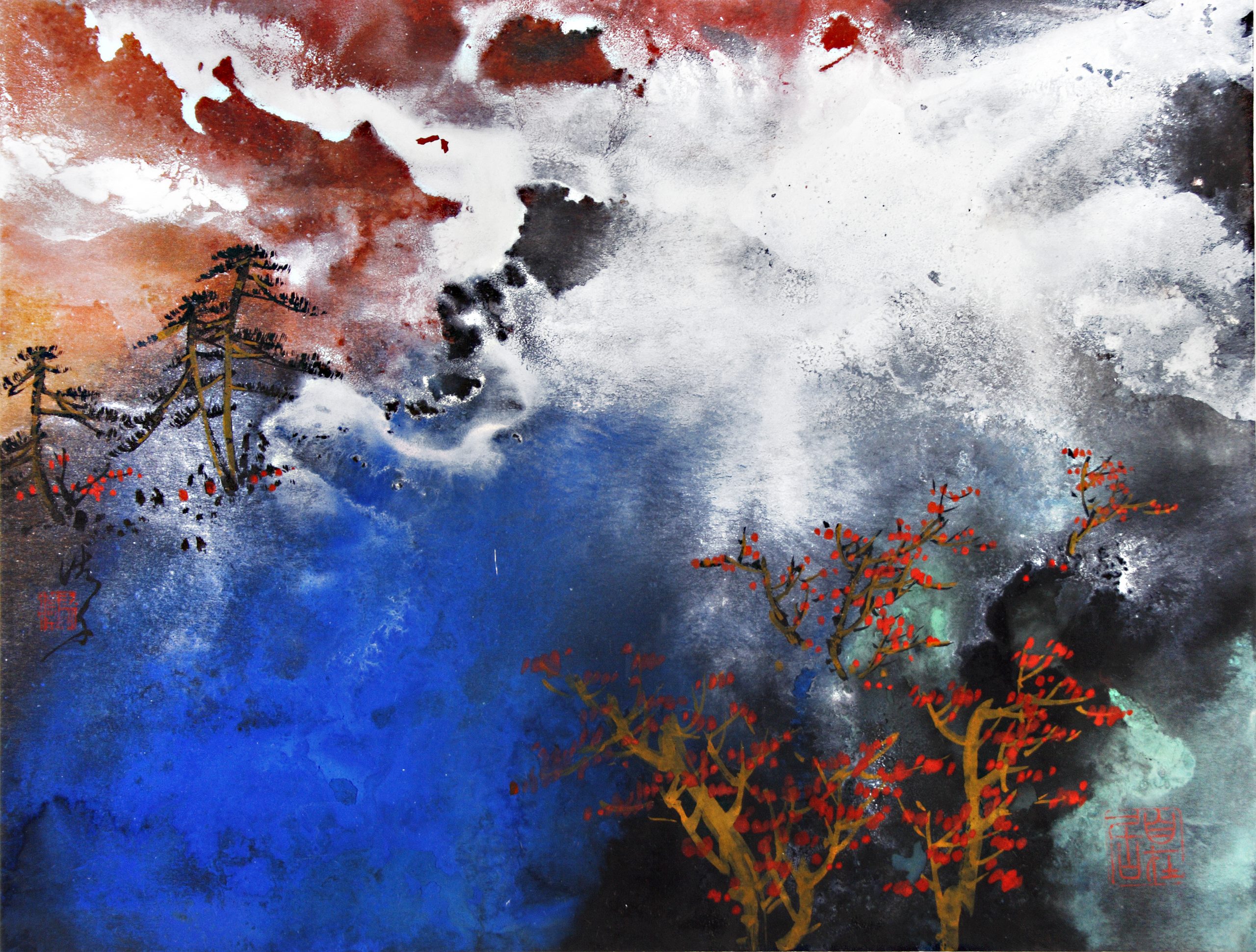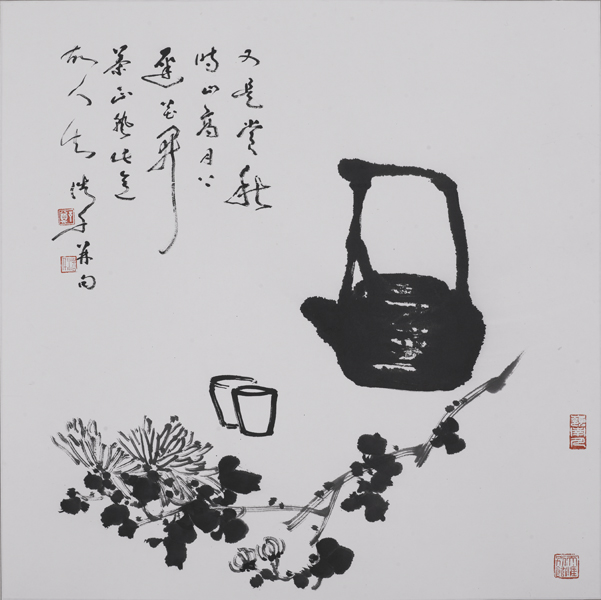 "Colours of My Life: Cheng Haw Chien's Retrospective on 50 Years of Artistic Creations." welcomed the former Transport Minister, Tan Sri Chan Kong Choy, as the guest of honor for the opening ceremony on June 25, 2022. In conjunction with the exhibition, an art talk was held after the opening ceremony, led by speakers Mr Ha Chan Kee, Mr Cheng Khing Yin, Dr Paul Boey Teik Soon and Assoc Prof Dr Pua Shiau Chen. The four speakers shared the artistic features of Cheng Haw Chien's painting, calligraphy, and poetry. As Dr Pua was absent, her speech was given by proxy. The art talk was moderated by the curator Mr Lee Khai who is also the chairperson of the Penang State Art Gallery.
Ha Chan Kee was born in Kedah, Malaysia in 1946. He is an all-rounded Chinese artist and columnist who is skillful in writing poetry, couplets and Chinese literature. He is a graduate of the Department of Chinese Literature, National Taiwan University. He has served as a lecturer in New Era University College and Oneworld Hanxin College, and was a visiting professor at Handan College, China. He was vice-president-cum-dean of the Visual Arts Department in KLSCAH Cultural and Education Committee, faculty advisor of Chinese Studies Association of Malaysia and academic advisor of the World Association of Chinese Culture.
Cheng Khing Yin was born in Johor Bahru, Malaysia in 1962. He graduated from the Department of Fine Arts, National Taiwan University of Arts. From 1989 to 1994, he served as an art teacher, fine arts lecturer, dean of Arts Department and Director of Academic Affairs. In 1996, Cheng established the Cheng Art Studio and has been involved in calligraphy education until today. He is currently the vice-chairman of Malaysia Contemporary Chinese Painting and Calligraphy Association and vice-president of Overseas Chinese Calligraphers Association, South East Asia Calligraphers' Association and World Federation of Bang Shu Calligraphy (Malaysia Branch).
Dr Paul Boey Teik Soon, was born in Penang, Malaysia in 1981 and received his Doctoral degree in Chinese and Foreign Art Comparative Study from the Art Institute of Nanjing University and completed his post-doctoral studies at Southeast University. At present, Dr Boey mainly studies the art history, culture and art development and art education of China and Southeast Asia along countries of the "One Belt One Road Initiative". He was also the secretary and committee member of the World Chinese Art Education Association. Since 2015, Dr Boey has published The History of Arts Education of Chinese School in Malaysia, A History of Malaysian Arts, Ink Through the Century: Development of Malaysian Chinese Ink Painting and Its Protagonists and other works. Dr Boey now serves as supervisor for postgraduate students in New Era University College and is a distinguished professor at Fujian Preschool Education College.
Dr Phua Shiau Chen was born in Selangor, Malaysia in 1981. Dr Phua received the Doctor of Literature (Ancient Chinese Literature) from Zhejiang University and Masters of Arts (Chinese Studies) from Universiti Tunku Abdul Rahman (UTAR). Her research in Chinese Classical Literature, Classical Aesthetical Studies and Chinese Cultural Studies has resulted in more than 20 academic publications. She was previously an assistant professor in the Institute of Chinese Studies, UTAR and is currently an associate professor at the Institute of International Education, New Era University College.
Cheng Haw Chien's Painting, Calligraphy, and Poetry
Mr Ha Chan Kee began his sharing with Prof Cheng's six poems which act as the theme for this retrospective's subsections, leading everyone to appreciate Prof Cheng's painting, calligraphy, and poems. Mr Ha pointed out that the themes of the six poems summarised Prof Cheng's artistic accomplishment, like a master key that helps us to understand Prof Cheng's inner thoughts easily and opens the majestic door to his art world.
The six poems were: "Looking Up to Summits," "Cloud and Mountain, Poetry and Painting," "Globe-trotting," "A Blooming World," "Admiring the Moon Together," and "Traces of Artistic Journeys". "Looking Up to Summits" portrays the subject of a majestic mountain. Apart from the magnificent mountain view described in the poem, Prof Cheng utilised the poetic feature that described his perspective of life and his feelings and aspirations. "Cloud and Mountain, Poetry and Painting" expresses the artist's attitude towards his art creation. He adopted the philosophy of "learning from nature and being endowed with spiritual inspiration" to explore and comprehend the mystical and wonderful world of Mother Nature. The artworks displayed in "Globe-trotting" section of the exhibition were the representative landscapes in Prof Cheng's overseas trips. The poems not only describe Prof Cheng's journey but also contain his feelings and state of life during his artistic creation and his source of inspiration. In "A Blooming World," Prof Cheng utilised a lot of personifications and allusions in depicting flowers. The two stanzas at the end of the poem "Inspiration arises and magnificent flora come to mind; Assembling them on paper is never a grind," expressed Prof Cheng's artistic spirit, his passion for art, and his spontaneity in penning down diverse, beautiful forms of flowers in his art and poems. The subject of the moon, featured in the artwork "Admiring the Moon Together" section, was not commonly found in traditional ink paintings. Besides the laments described in the poem, he also vowed to use bright colours to purify this soiled world. In the poem "Traces of Artistic Journeys," Prof Cheng felt gratified for the many places he has been. At the same time, he also would like to express to everyone that, despite his ageing body or exhausting brushes, he would still persevere in creating poems and paintings. Lastly, Mr Ha recited "Poem by Artist on His 60th Birthday" to conclude his sharing.
Dr Phua Shiau Chen's speech was "On the artistic value of Cheng Haw Chien's poetry in 'A Corpus of Chinese Poems Cheng Haw Chien with definition and commentary' from the perspective of Confucian aesthetics". She began by describing how Confucius valued human connection, that literature should imply significant guidance to the people and the virtue of artistic creations. At the same time, Confucius introduced the four concepts of "stimulation, contemplation, communication and criticism" to emphasise the societal functions of literature.
Dr Phua mentioned that all the chapters in "A Corpus of Chinese Poems Cheng Haw Chien with definition and commentary" contains refined and positive content which enlightens people to a positive mindset and nourishes their spirit and literacy. Hence, it follows the saying of, "Having no depraved thoughts." "Stimulation" means that the poem arouses people's will to strive for excellence and inspires aspirations. Most of Prof Cheng's poems are lyrical, where he expresses his feelings on sceneries and societal affairs. Thus, by reading Prof Cheng's poems, one can catch his sentiments within them and develop a literary sense of association.
"Contemplation" means one can understand the prosperity and decline of social customs through poems. In Prof Cheng's poem, he wrote about social events, such as the demolition of heritage buildings in Melaka, the New York twin tower attacks, the Gulf war, and the South America Suriname civil war. Hence, the poem has the artistic value of "contemplating" the prosperity and decline of social customs.
Prof Cheng also wrote "congratulatory poems" and "gift poems" to commemorate the harmonious exchange of poetry and painting with mentors and friends. By reading these poems, the readers can appreciate the significance of living in a group and learning from one another, which is the meaning of "Communication."
Prof Cheng's poem reminisces the past, expresses feelings of indignation, and satirises societal or historical incidents. Hence, poems express "Criticism". Lastly, Dr Phua stated that the poetry collections in Prof Cheng's "A Corpus of Chinese Poems Cheng Haw Chien with definition and commentary" has achieved the standards and requirements of Confucian aesthetics and in that lies its artistic value.
Subsequently, Mr Cheng Khing Yin led the audience to appreciate Prof Cheng's artworks such as "Mountains and Clouds Rhapsody (1)" and "Morning Twilight." Referring to these artworks, Mr Cheng mentioned that one could feel as if the artworks were moving after looking at them for a long time. He explained that our eyes could perceive an inanimate object as moving due to a unique brushstroke technique employed by the artist in the paintings. Mr Cheng pointed out that one could draw such a vivid and lively painting by witnessing the scenery, seeing the high mountain and the flow of clouds, and feeling the atmosphere on the spot.
Mr Cheng continued to introduce the painting entitled "Willow and Moon." The portrait was brilliant because of its flexible yet graceful lines. One can perceive the artist's attainment from many years of effort and personal development.
Mr Cheng cited the artwork "An Old Memory" and discussed the subtlety of Prof Cheng's composition. At the bottom of the painting, the branches of the chrysanthemum grow towards the right. A teapot is resting near the top right of the branch, and the teapot spout points to the left. The viewer's eyes will land on the calligraphy inscription at the top left corner. Finally, seeing the seal at the end of the inscriptions will lead the viewer's eyes back to the chrysanthemum, creating a continuous flow in composition.
Lastly, Mr Cheng presented his calligraphy to Prof Cheng, concluding his sharing with a joyous surprise.
Dr Paul Boey Teik Soon shared his thoughts on how Prof Cheng started ink painting. According to Dr Paul's observation, there was once an encounter with art that inspired Prof Cheng's passion for learning the root of Chinese culture. In the early days, Penang senior artist Mr Kuo Ju Ping paid regular visits to Prof Cheng's home to purchase cloves. He coincidently saw a painting on watercolour paper by Prof Cheng in which he tried to mimic Xu Beihong's artwork. Consequently, both of them engaged in a dialogue on art. This dialogue inspired Prof Cheng to acquire the knowledge of rice paper and colours made for ink paintings. Later, we can see the different effects on Prof Cheng's landscape paintings when he used different types of paper, such as rice paper and gold paper.
Subsequently, Dr Boey gave examples of Prof Cheng, who sought advice and exchanges with great masters such as Venerable Zhu Mo, Chao Shao-an, Lang Jingshan, Liu Haisu, Liu Kuo-Sung, and Yu Qiuyu. He even went abroad to hold exhibitions all over the world and interact with local artists. These cross-border, cross-cultural exchanges spurred breakthroughs and innovations in his creation. Dr Boey also stated that Prof Cheng's effort in portraying his new vision and experiences gained from his travels in his artworks had heightened the standard and aesthetics of Chinese culture.
Besides, Prof Cheng also drew many subjects not commonly seen in traditional ink paintings, such as the agile kangaroo, the lonely crane, the clumsy bear, the brave tiger, and the wandering ostrich, giving a new impression to the language of Chinese art.
At the end of the talk, Mr Lee Khai left the audience a question to ponder: "How can we inherit and promote the appreciation for literati painting in our country?"
SPEAKER(S)
SPEAKER(S)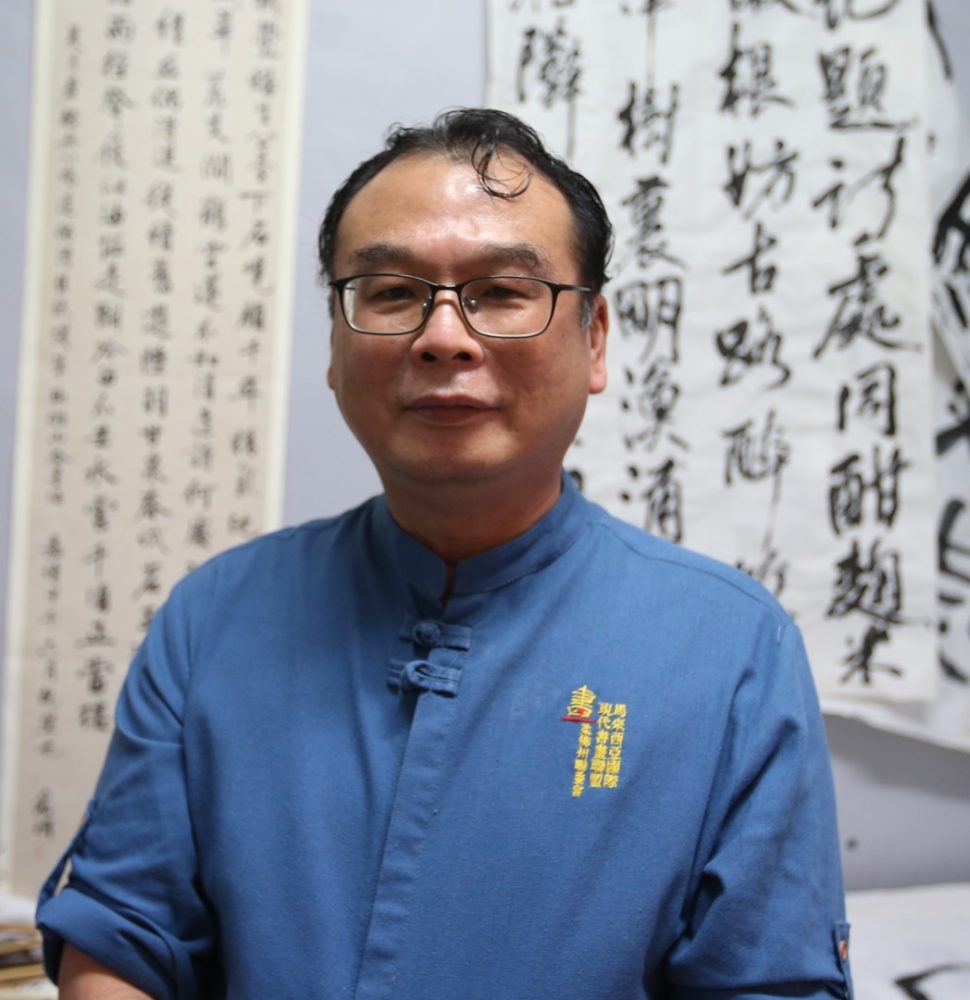 SPEAKER(S)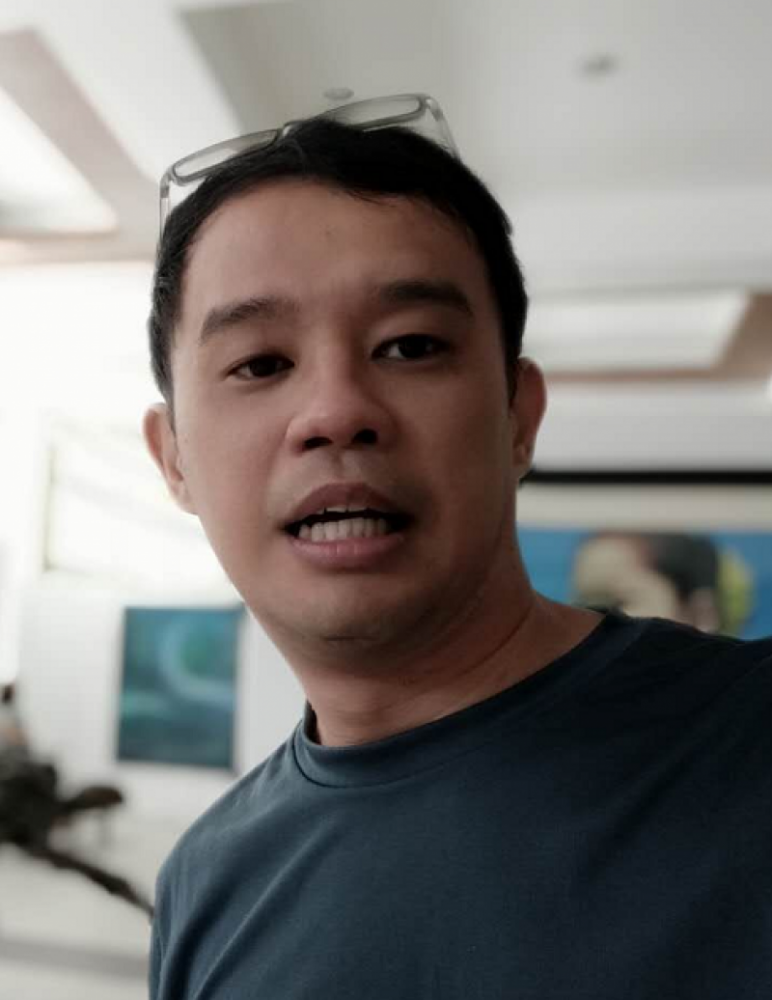 SPEAKER(S)